A Harvard Professor has taken a "tremendous step forward" in the race to cure Type 1 diabetes.
Professor Doug Melton began searching for a cure when his son was diagnosed with the illness 23 years ago; he also has a daughter that suffers from the affliction.
It was announced this week that Prof. Melton is closer than ever to finding a cure.
Diabetes is a lifelong condition that is caused by the immune system killing the cells that control blood sugar (glucose) levels. The destruction of these vital cells (called beta cells by scientists) causes the sufferer's blood sugar levels to become dangerously high.
Ordinarily, the hormone insulin, which is produced by the pancreas, controls the amount of glucose present in the blood at any given time, lowering sugar levels if need be. Type 1 diabetes occurs when the patient's pancreas simply ceases to produce any insulin at all. In Type 2 diabetes, the pancreas does produce insulin, but not enough to supply the entire body with it. Either that, or the patient's body simply fails to respond to insulin altogether.
Prof. Melton's team used stem cells to produce hundreds of millions of beta cells in a laboratory environment. These cells, which were then introduced to diabetic laboratory mice, actually treated the disease by replacing the missing cells. In fact, the mice remained 'cured' for several months.
These artificially cultured beta cells actually produced insulin and controlled blood sugar levels almost as effectively as the real thing.
"We are now just one pre-clinical step away from the finish line", beamed Professor Melton proudly.
However, it is worth noting that the same disease, which caused the patient's immune system to destroy the beta cells in the first place, could (and almost certainly would) still act to destroy the replacement cells.
Further research is needed before Melton's team can claim to have cured the disease entirely. However, this is an extremely encouraging result.
Professor Chris Mason, a stem cell scientist at University College, London, told BBC News that,
"A scientific breakthrough is to make functional cells that cure a diabetic mouse, but a major medical breakthrough is to be able to manufacture at large enough scale the functional cells to treat all diabetics. (…) This research is therefore a scientific and potentially a major medical breakthrough. (…) If this scalable technology is proven to work in both the clinic and in the manufacturing facility, the impact on the treatment of diabetes will be a medical game-changer on a par with antibiotics and bacterial infections."
At present, the UK has the world's 5th highest rate of potentially fatal Type 1 diabetes in children. The illness affects hundreds of thousands of people in the UK, with many more cases apparently going undiagnosed. Due to these massive numbers, Professor Melton and his team could stand to make a huge difference in the lives of many people, and their families, worldwide, if they can find a permanent cure.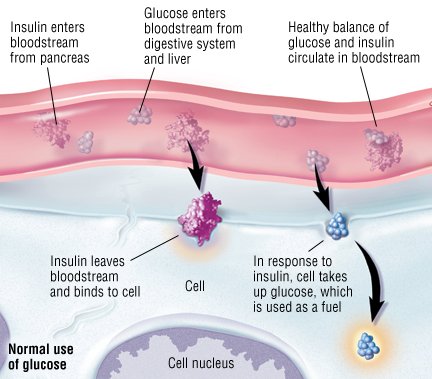 Certainly, they have come closer than anyone ever has before.
When asked by BBC reporters how his children reacted to the news of his breakthrough, Melton simply said, "I think, like all kids, they always assumed that if I said I'd do this, I'd do it." Now that, ladies and gentlemen, is a dad.